8

Access Point: Internet in your home
How can I get internet at home?
Another way for your learner to access the internet is within your home. This can be done by hiring a company to provide internet access within your home. This option can be costly, but don't worry, there may be other options available, such as free-Wifi and school-provided hotspots.
If you do want at home wifi, you will need to find an Internet company near you. This can be done by searching in Google.
For example, in Iowa City, we have companies such as Mediacom, Spectrum, and Xfinity. Some even offer deals/discounts for community members with children attending school.
Mediacom's Connect2Compete program is a great example of a company that has a family discounted rate if you qualify.
The programs qualifications include:
One kid attending school (elementary or high school)
have a child who qualifies for free or reduced-price lunch through the National School Lunch Program (NSLP)
must not have been a Mediacom internet subscriber currently or for 90 days prior
Can't have an outstanding balance due
Check your eligibility by clicking the link: http://www.mediacomc2c.com/apply.aspx
(This information was summarized from Adam Kurth http://innovation.iowacityschools.org/2018/09/10/an-inexpensive-home-internet-option-for-qualifying-families/ )
Once you have internet access you must also have a server (router) to connect to the internet.
Router
Private network routers help to ensure a secure connection that is password protected, meaning only your household, and those you allow access to can use your wifi, meaning a faster internet speed! Routers can be purchased or rented from internet providers, purchased at a local electronics store, or ordered right to your door via Amazon for a good price. Here is an example of one that can be purchased: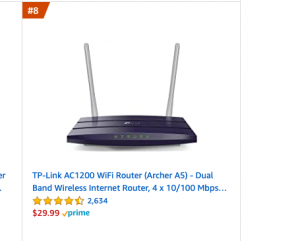 Written By: Taylor Cassian (12/2/2020) and Elizabeth Fuller (11/16/2020)
Final Draft: Emily Hott & McKenzie Paulsen