How do I access the instructions for assignments? [part 8]
In this chapter, you will learn about three ways to access your assignment instructions in Seesaw. We will go through each way more thoroughly in the next three chapters.
One of the interesting challenges I've found in adapting to Seesaw is that there are a lot of ways to do something – both as a user (e.g., the learner) and a content generator (e.g., the teacher). Our research for this project revealed that the ICCSD wanted to give teachers whatever freedom they could be considering that many of the assignments/activities were created by other educators over the summer.
Unfortunately,  in some cases, you may find that there is a lot of variation in the assignment instructions, which can be really confusing. However, in this book, we will help you create those that make it much easier to figure out where things might be in Seesaw!
Our research revealed three basic ways that educators might have shared the instructions for an assignment.
Instructions through audio or video
Embedded in the preview of the activity
Through an icon that says "view instructions"
We provide a brief overview next, and more information in the subsequent chapters.
1. In a video
The first way your assignment can be found is in a video. Follow the arrow in the picture below and you'll see an option to play instructions.
2. In the assignment description
Assignment instructions can also be found in the assignment description.
3. The blue "view instructions" button
The last way is to see instructions from inside the assignment. Once you opened the page, click view instructions to check the instructions again.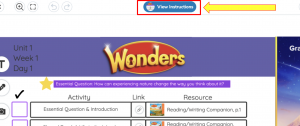 shortcuts your brain makes to help figure out what to do when using technology